BACKGROUND:

The Banchada community belongs to the lowest in the Indian caste history. A caste system is a class structure that is determined by birth. This 'schedule caste' traditionally and economically is an impoverished community, which has been deprived of developmental opportunities for decades. They cover 76 villages on the border of the State of Madhya Pradesh (MP).

Prostitution in this community is a social compulsion. This is not a choice given, it is a mandate given to each generation. In this caste-based prostitution the parents and brothers initiate the young girls into the flesh trade at the age of 11 or 12 by procuring customers for them. This 500 year-old tradition has no effect on the males as they feel they have divine sanction to initiate their daughters to this trade. It begins by dedicating their newborn girls to the goddess of prostitution, followed by neighbors and friends coming to congratulate them for the future profit they are going to make by prostituting their daughter. Children are cursed from birth into a life of objectification. As tradition over the years the young males in the families become the pimps and this is a norm.

More than 50% of the population is infected with HIV/AIDS. With almost no medical care and preventive methods, unfortunately the newborns in these villages inherit this disease.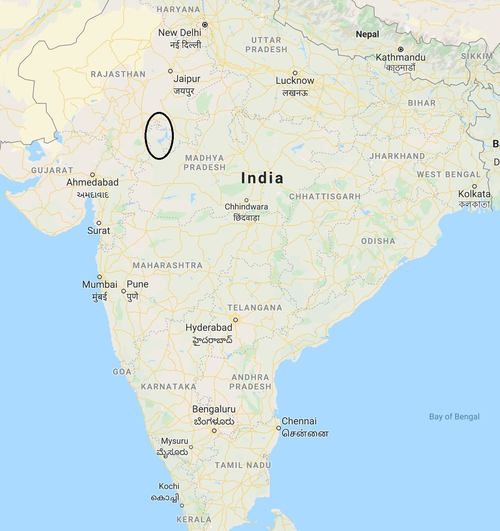 GOAL:

- Prioritize building our relationships with the families of this community.
- Our goal is to ensure that children born into a family in this community will not be pushed into sex slavery.
- Providing education for free of costs to the children of this community to have a better future.
- Immediate rescue for the vulnerable children before they are sold.
- Monitoring and ensuring none of the children are born with HIV/AIDS
- Providing Medical treatments to the expecting mothers that are HIV positive.
- The vision of the project is to bring lasting, Biblically-based, change to the Banchada people.

This plagued cycle of prostitution has been destroying the lives from generation to generation; the need for revival at every level of this community is our goal.
MISSION:
Equip and empower Banchada children, youth, women, and men to carry out transformational development, resulting in holistic community transformation (spiritual, physical, social, mental and emotional) in the districts of Mandsur and Neemach.
MP (Madhya Pradesh) PROGRESS:
We have 44 kids in our homes
Boys-21
Girls- 23
In school we have a total of 247 students studying.
We currently have 7 outreach staffs working in various districts, and 8 staff working as hostel staff (excluding the service staff)
We are reaching out to many villages in the area.
IS YOUR HEART BROKEN FOR THESE CHILDREN?
THIS IS YOUR OPPORTUNITY TO MAKE A DIFFERENCE!
Story of "A":
"A" is from a village nearby, which is around 20 kms away from our campus. Getting her to hostel was really challenging as her mother was not ready to send her ,after a lot of prayers and constant talking she agreed to send her but within a few days took her home for a function and did not send her back. We felt discouraged that we lost one kid but Uncle always encouraged us to keep praying and within a few days she was back in the hostel. But again Satan worked against us and the mother took her back. After a lot of convincing and talking she agreed to send her only if we would take her brother also. Finally both "A" and her brother joined hostel.
Her father was convinced that he wanted her to study, be educated and have a good job whereas the mother wanted to put her into the business (it's the mothers who decide if their daughter should be in business or not) Even after bringing her to the hostel, the mother openly told us that she will keep her in hostel only for a few years and after that she wants to put her in work(prostitution). Hearing those words from her own mother was very disturbing and heartbreaking for us but trusting that God can do wonders we agreed and gave her admission in hostel.
We continue to pray and hope that in two years God will change her mother's heart…("A's" aunty, mother's sister is a sex worker in the village)
Story of "Princess":

It is about 110 F in the dusty village of the Banchada community. Shadows of the trees barely shielding. The extreme weather conditions are not as agonizing as the horrifying truth of the traditional culture of this community. The inhumane selling of daughters in their own homes for decades has tainted the name of these villages. Here trust is unreal and deception is predictable.

Uncle marching in with his heart full of hope encounters little Princess. It may have been the comfort of his warm smile or the fatherly embrace, Princess clasped on to Uncle. Her tiny palm in his grip, curious on his intentions she follows him as he explores the new assignment God has given him. The innocent yet incredible wittiness prophesied her uniqueness. Soon he knew this child was a special one with a powerful future, one that will uproot social injustices like a tornado, trashing crimes against young girls like her.

Princess lost her parents to unfortunate incidents. Her mother ran away when she was a baby and father poisoned himself a year ago. Their grandmother unable to carry the burden of raising the girls decided to traffic them.

If it wasn't for God's perfect plan and timing to send Uncle to their rescue, the world would have lost the innocence of two young girls again. This horrifying truth is not just of Princess and her sister but also of hundreds of girls born and raised in this community. Blinded by the normality of this evil tradition of becoming a slave to flesh trade, most girls in this village are aware of their destiny like little princess at a very young age. They are bound by the chains of trafficking at the ages of 12 and 13. The age when she should've been mesmerized by fairy tales and happily ever afters. Princess was barely surviving in anticipation of this traditional custom that would not spare her.

But there is HOPE

Today she is safe.

She is tucked in her own bed for the first time, dances with joy for the first time, she paints for the first time and… finally the sparkle in her smile is a testament of hope, joy and peace.
Together, we can bring hope to these Banchada children.
They will have a chance for a life other than prostitution and they
can discover the freedom and life that comes from Jesus.

How much will you give to Hope For Banchada?