We exist to help people trust and follow Jesus.

We don't care how you're dressed, how many tattoos you have, or what your past looks like. We believe your best days are ahead of and you can find a place to belong at Stafford Crossing and we have a seat saved for you.

We know visiting a new church for the first time can be overwhelming, maybe even a little scary. Whether you are curious to learn more about God, or are looking for a new place to call your church home, Stafford Crossing has a place for you! We are a church of people from a wide range of backgrounds with a mission to help people trust and follow Jesus. That's what we are all about and we would love for you to join us on this journey!

Our Sunday services are at 8:30, 9:50 and 11:10 a.m. and are an hour long. The messages, taught by Pastor Darryl or one of the other teaching pastors, are encouraging, challenging, and relevant to your daily lives.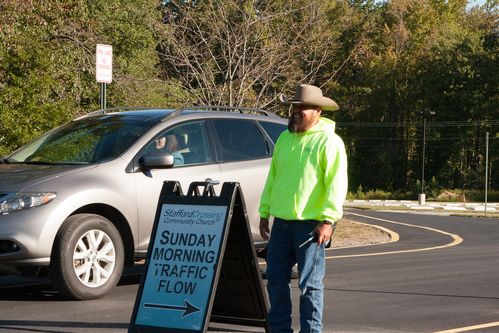 We'll be saving a parking spot for you! As you drive up the hill to the church, be sure to put your blinkers on so the parkers can show you where to park. Our First Time Guest team members will gladly show you where to go once you are parked.

During our Sunday morning experience, Kids Crossing is available for children birth - grade 5. Your child(ren) will receive top-notch care while you enjoy the service. Rest assured that your child(ren) will be loved and cared for in a safe, secure, and exciting environment designed just for them, all while learning about Jesus!
If your child is in grades 6 - 12, we has a place for them! We offer a relaxed, environment where it's safe to ask questions, get answers and find the truth about God's plan for you in the real world you live in each day. We gather together to celebrate with laughter, friendships, music, games and encouragement from God's Word. Students meet Sundays from 5:30 - 7:30 p.m.