The Other Side of Christmas: December 18
December 18, 2019
by Kwesi Thompson
Isaiah 7:14 (NKJV)
Therefore the Lord Himself will give you a sign: Behold, the virgin shall conceive and bear a Son, and shall call His name Immanuel.

When I bought my first car, I always loved to drive and go out to different places. This was around early 2005 when GPS systems were not very common and very expensive. I always printed on paper the directions to my destination from MapQuest and followed the directions religiously, turn by turn. One day, a friend invited me to join her family for Thanksgiving dinner. I printed the directions from MapQuest and set out on my journey. As I got into the town, I could not find my next sign or the street to turn on. After about thirty minutes of going back and forth I gave up trying and decided to call for help. My friend told me that the road shown on MapQuest was closed and a new road had been constructed which was not updated on the map. Sometimes in life's journey we are looking for clues and signs to take the next step or make a move. We often get worried and anxious about what will happen next. The prophecy of Isaiah we read today gave the people a sign and hope about the coming of the long-awaited Messiah. This sign was so unique that no one could miss it.

An acronym for the word Bible is Basic Instructions Before Leaving Earth. It gives us every instruction to get through life's most challenging problems. In Joshua 1:5, when Joshua had the daunting task of leading the people of Israel, God assured Joshua that He would never leave him nor forsake him. What a relief to know that God will never abandon you, even for a second. God gave the wise men from the East a sign, a star that led them to the location of the baby Jesus. Matthew 2:9b-10 says, "and behold, the star which they had seen in the East went before them, till it came and stood over where the young Child was. When they saw the star, they rejoiced with exceedingly great joy." God still gives us signs and clues to go through life through His Word and the Holy Spirit. Matthew 28:20b says, "And surely I am with you always, to the very end of the age." The term "On-Demand" is used by cable and media streaming services but it can be used to relate to God's readily available help in our daily lives, too. Psalm 46:1 says, "God is our refuge and strength, a very present help in trouble." We rest assured when we rely on His promises in His Word. The peace we enjoy in our heart in difficult times is a sign of God's comforting hands in our lives.

RESPOND
As we go through this life, remember that God has made provision for every life situation and you must just look for the signs in His word and through prayer.

PRAY
Father, thank You for every provision You have given me through Jesus Christ. Give me the grace and patience to trust and follow You every step of the way. Open my eyes to see what You have provided for me and my ears to hear Your voice when You speak. In Jesus' name I pray, amen.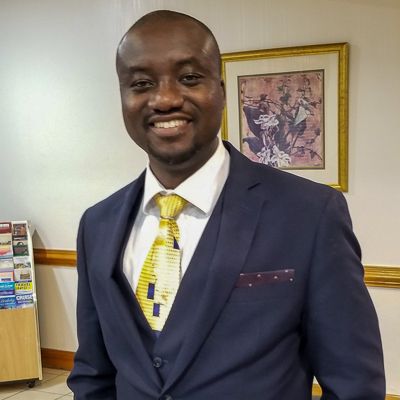 About the author:
Kwesi Thompson

Kwesi was born and raised in Ghana where he grew up in church; his father is a Methodist minister and teacher of the Word in Ghana.  He became a Christian in 1992. He is the last of four children.  He migrated to the United States in 2004. He is married to Eunice and they have three beautiful girls. He and his family have been attending Stafford Crossing since the summer and just completed the Alpha course. He is excited about Jesus and loves to teach others about Jesus.